An easy, complete and flexible cookie law implementation plugin for WordPress which makes it possible to fully comply the cookies on your website with the GDPR & CCPA.
Choose your way of cookie consent in the style of your website!
Comply easily with i.a. the:
EU General Data Protection Regulation (GDPR)
California Consumer Privacy Act (CCPA)
UK cookie law
Dutch cookie law / AVG
Italian cookie law
German cookie law / German Data Protection Amendment Act (GDPAA)
Compatible with caching plugins, like:
W3 Total Cache
WP Rocket
WP Fastest Cache
SOME GDPR / AVG PROOF FEATURES:
Cookie information bar/box with possibility to add a:
– Link to your cookie policy page
– Accept cookies button
– Decline cookies button
Change cookie settings
Block privacy sensitive /3rd party cookies before consent
Consent logging
Cookie consent only for EU visitors (disable cookie consent bar/box for non-EU visitors)
EU GDPR required?
YES! If you have a European website or a website directed to a European audience, a website visitor has to be informed about and give consent for placing certain privacy sensitive cookies on your website. Depending on what you are doing with these cookies, this consent may be implied or must be explicit.
Fully comply with the cookie law on your own way!
With our WeePie Cookie Allow Plugin for WordPress you can easily comply with the cookie law of your country (concerning the GDPR) on your own way: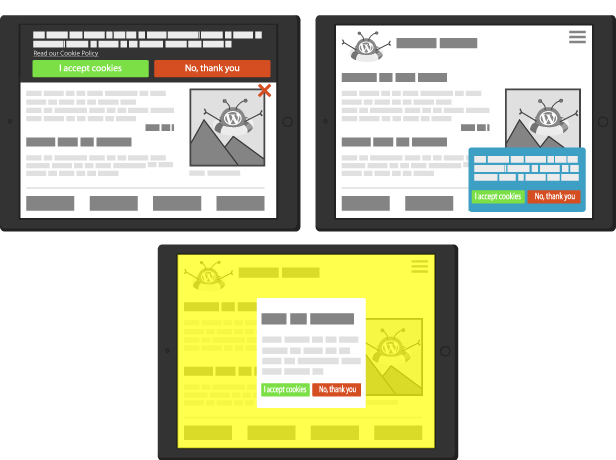 Compose your cookie consent manner:

Choose what cookies should be placed before consent
Choose your consent method: e.g. by scrolling the website or by clicking on the accept button
Choose whether you want to use a layer on top of your website (cookie wall)

Choose your consent style:

Choose between a cookie bar or box
Customize the front elements (e.g. the texts, colors, corners, positions)